by Laura Powers
George Mason University College of Science announced a $1.57 million dollar grant from the Department of Defense to fund a transformative approach for breast cancer treatment developed by scientists in Mason's Center for Drug Discovery for Rare Diseases (CDDRD). This approach will both help individuals at a higher risk for developing tumors, and can also more effectively treat those that have failed therapeutics to treat the disease.
This effort, led by CDDRD Co-Director and Professor of Practice, Milton Brown, MD, PhD, aims to define the structural features and binding characteristics of BRCA1—a tumor suppressing protein to the estrogen receptor in breast cancer stem cells. BRCA1 regulates critical cell processes needed for normal breast cell function. Women who test positive for a BRCA1 mutation are more likely to develop tumors over time and are at a higher risk for developing breast and ovarian cancer.
Over the next three years, the team, which includes chemist Yali Kong, PhD, tumor biologist Kan Wang, MD and assistant director of scientific operations Farhang Alem, PhD will work to develop a therapeutic drug that helps replace BRCA1 in women who are deficient, and provide a major unmet medical need by offering another therapy option for patients that become resistant to tamoxifen—one of the oldest hormonal therapies.
The National Cancer Institute reports that one in every 500 women in the United States has a BRCA1 or BRCA2 mutation.
"A therapeutic like this would help hundreds of thousands of women," said Dr. Brown. "Some women who test positive for the mutation select to have their breasts and ovaries removed in order to avoid the risk of getting cancer," said Dr. Brown. "Imagine instead, these women would simply be able to take a pill and it's like having BRCA1 again."
The team is also developing a novel approach to treating breast cancer by identifying a BRCA1 mutant stem cell responsible for metastasizing and invading other parts of the body. According to Dr. Brown, these breast cancer stem or stem-like cells are hard to find and, if left behind after removing a tumor, will cause the cancer to reoccur. Dr. Brown's team, however, utilized a protein called DCLK1 to identify and target these cells. Over the next three years, the team will enhance the drug treating BRCA1 deficient patients to also have the ability to find and kill these specific cancer stem or stem-like cells—eliminating the need for more invasive treatments like mastectomies and providing an alternative for patients resistant to other drug, chemo, and radiation therapies.
"This is personalized, precision medicine targeting a specific type of cancer cell," said Dr. Brown. "Our strategy can benefit both patient populations—those with cancer and those without."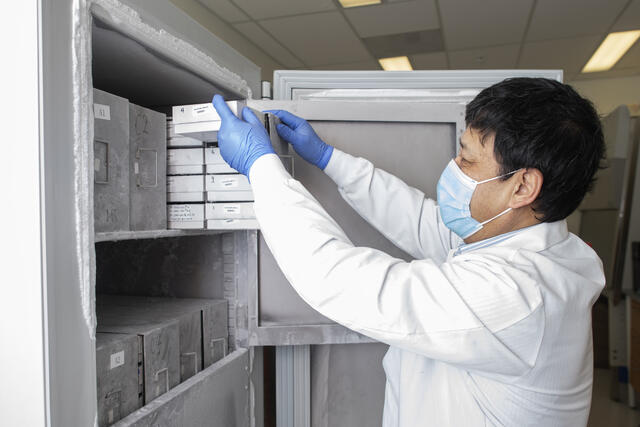 Other members of this grant include Mason statistician Naoru Koizumi, PhD, Breast Cancer expert Robert Clarke, PhD from the University of Minnesota, cancer pathologist Bashkar Kallakury, MD from Georgetown University, renown DCLK1 expert Courtney Houchen, MD from the University of Oklahoma, and Elaine North and Juliann Bryant who are a part of Mason's sponsored programs. Submission and award data for the FY21 DoD Breast Cancer Breakthrough Awards show that only 6.1 percent of 493 applications were recommended for funding.
"I feel so honored to work with the scientists on this multi-institutional research team and to be selected for this meritorious breast cancer breakthrough award," said Dr. Brown. "If we accomplish this, this will be a life-changing breakthrough for women."