by Tracy Mason
Charles (Charlie) Bailey retired effective February 1, 2022, having experienced an illustrious career as a visionary biodefense researcher and scientific trailblazer for George Mason University. Bailey's vision and expertise led to one of his most notable contributions to Mason's current biomedical research prowess, the Biomedical Research Laboratory (BRL), at Mason's SciTech campus in Manassas, VA.
Photo provided.
Bailey's vision and expertise led to one of his most notable contributions to Mason's current biomedical research prowess, the biomedical research laboratory, or BSL-3 at Mason's SciTech campus in Manassas, VA.
The Mason Distinguished Professor is also recognized for leveraging his extensive global network to establish significant research partnerships. His 27 funded research proposals contributed almost $51 million; $36 million of that funded research with Bailey acting as either PI or co-PI. In addition to partnering with the National Institutes of Health, other project collaborators include the U.S. Departments of Defense and Energy, the U.S. Army and Navy, Defense Threat Reduction Agency, Federal Bureau of Investigation, former Ambassador of Costa Rica to The United States, Ceres Nanosciences, and INOVA.
Bailey also helped Mason actively recruit, inspire, and mentor prominent faculty and promising students to build the solid foundation of the university's biodefense and infectious disease research programs.
Over the course of his career, Bailey has accumulated 44 years of in-depth experience in the functional area of medical countermeasures, specifically in infectious disease and biodefense-related research. He served in the U.S. Army for 25 of those years, studying the natural history of infectious diseases. The outcomes from those studies have been included in more than 100 articles in referenced books and journals.
Early scientific curiosity blossoms to successful global military career
The animals and insects Bailey encountered on the family's dairy farm in Oklahoma fueled his scientific curiosity. He received his bachelors, master's, and Ph.D. in entomology from Oklahoma State University and pursued this life-long interest while serving his country in the U.S. Army.
During his military career, Bailey was a research scientist in the South East Asia Treaty Organization medical research laboratory in Thailand; Chief of the entomology department at the Walter Reed Army Institute of Research and Director of arboviral entomology at US Army Medical Research Institute of Infectious Disease, (USAMRIID); and later Commander of USAMRIID. Even then Bailey was a trailblazer for scientists as the first Ph.D. scientist to be named commander of this 600-person laboratory. According to Bailey, "It had always been a physician or veterinary's job, but I was the first Ph.D. commander of that lab."
After retiring from the military, Bailey worked for the Defense Intelligence Agency, serving as the DIA's Representative to the intelligence community, for biological terrorism threat analysis. Bailey then worked for private industry on multiple biological warfare related programs and served as Task Manager for the State Department to assess the former Soviet's peaceful transitional measures pertinent to biowarfare research.
A bioresearch trajectory-defining hire
Bailey was recruited by Vikas Chandhoke to come to Mason in 2001. Mason wanted to expand its life sciences footprint based on the university's strengths and at that time, the field of molecular biology was booming thanks to recent discoveries in human genome research.
"I decided we didn't want Mason to catch up to where others were but rather wanted to establish leadership in the domains we selected for our growth," Chandhoke explained. "Charlie's significant and highly regarded USAMRIID research experience, combined with his influential national and global network, made him a critical component of our growth strategy."
Once at Mason, Bailey realized one of the biggest challenges was animal research space. To accommodate and evolve this science, Mason needed a state-of-the-art laboratory similar to those he'd worked in previously.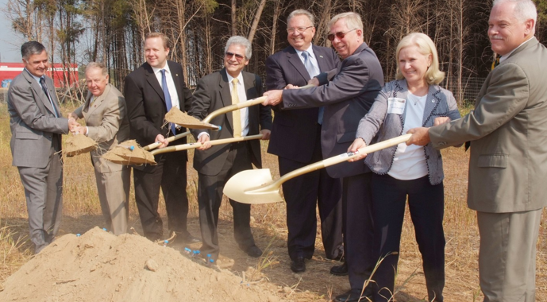 Mason BSL-03: The House that Charlie Built
Mason competed for and was awarded a grant from the National Institute of Allergy and Infectious Diseases to build the Biosafety Level-3 Laboratory at Mason because of the university's highly regarded team of infectious disease experts and proven track record of biodefense research success.
"Charlie's leadership was crucial for us to be competitive and successful in the BRL proposal," Chandhoke said.
As lead PI, Bailey's grant secured the project's estimated $50.5 million funding, including $27.7 million from NIAID, the largest funded proposal Mason had received up to that time. The project also required another $20 million in matching funds from Mason which Bailey and the team he assembled also secured. And the Commonwealth of Virginia committed an additional $2.5 million for land acquisition.
Bailey designed the facility concept to evaluate therapeutics and vaccines against an aerosol challenge in animal models. Opening in 2010, it was one of only a few laboratories in the nation with fully equipped Class III cabinet to evaluate aerosol exposures using small animals such as mice, etc. This aerobiology suite is part of the larger, still operational BSL-3 laboratory, housing Mason's Center for Infectious Disease Research (CIDR) that is approved by both the CDC and USDA to perform select agent work.
Bailey worked closely with his NIH colleagues over a two-year process to design the safety, plumbing, airflow, and electrical plans for this complex facility. Once the design process was completed, the construction of the building took another 18 months.
Gary Zackowitz, Biocontainment Facilities Architect and coordinator of the NIAID RBL/NBL Network described Bailey's involvement. "During construction of the Mason Biomedical Research Lab, Charlie walked the site and attended construction meetings. After construction, he played a major role in the formation of our Network and was one of the original Network Directors for a number of years. His contributions and leadership were instrumental in shaping the Network's direction and ensuring its success," Zackowitz said.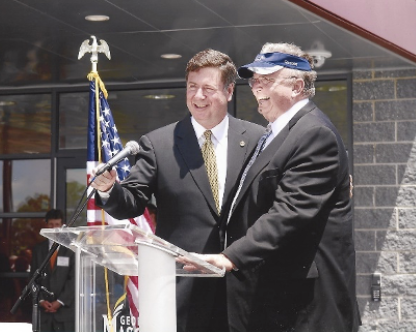 On a more personal note, Zackowitz considers Charlie a friend and mentor. "As an architect, I was not familiar with much of the science, but Charlie is an educator and he does it well. I was able to benefit from his knowledge and patience. Charlie will be the first place I turn the next time I need a science lesson!"
Initially, the center focused on therapeutic treatments of Anthrax, as that was considered the largest threat from terrorism. The lab's therapeutic treatment focused on using a combination of anti-inflammatory and antibiotic drugs as treatment of the anti-inflammatory response of the host turned out to be more important than treating for the pathogen alone.
Research to understand the world's deadliest animal
According to Bailey, he began the first day of class each semester asking his students if they could identify the world's deadliest animal. "It's not the lion, or snakes, or even humans," explained Bailey. "It's the mosquito." And Bailey should know; he returned from one trip in central Africa with Malaria. Bailey studied mosquitos from around the world to confirm why a relatively small percentage of the 160+species of mosquitoes in the United States and 3,000+ worldwide were responsible for human and animal diseases.
During his military career, Bailey scribed three publications featured in the prestigious SCIENCE magazine, describing his vector-borne disease discoveries.
During his first Army assignment at the Walter Reed Army Institute, Bailey investigated how Eastern Equine Encephalitis virus survived the winter months when the Culex mosquito species responsible for transmission from birds to humans and horses, were in hibernation. Unlike many mosquitoes that hibernate as eggs or other immature stages, that group hibernated as mated adult females. Bailey located a population of thousands of hibernating adult females, in the mid of winter, located in old abandoned ammunition bunkers, along the Maryland, Virginia and Delaware coast. His team was able to isolate the virus from this population and determined how the virus was able to survive. They would emerge from hibernation as active vectors.
Rift Valley fever (RVF) virus causes explosive outbreaks of abortion in cattle, sheep, and goats in many regions of the African continent every few years. RVF epidemics always followed unusually heavy rainfall which resulted in flooding of natural depressions known as "DAMBOS" in grassland habitats. The fact that many species of mosquitoes survived adverse periods of drought as eggs, led Bailey to initiate research based on the hypothesis that "RVF virus survives in the eggs of mosquitoes for multiple years between epidemics." This hypothesis was proven following isolation of the virus from mosquitoes reared from field collected eggs.
Bailey collaborated with NASA scientists to use satellite remote sensing to predict outbreaks on RVF virus. Using these remote sensing techniques proved valuable at predicting future flooding of DAMBOS, thereby predicting outbreaks of the RVF virus. This was the first demonstration by satellite technology, that a vector born disease, that normally only occurs every few years, can now be predicted 2 to 3 weeks in advance of an outbreak, thereby allowing public health workers to vaccinate in advance of an outbreak of disease.
Bailey points out that historically, Vector Born Infectious Diseases have always had significant impact on military operations. "My career has always been motivated by protecting our soldiers from Biological Warfare threats, given the world's deadliest animal has killed more soldiers than gun fire." Bailey said.
In his recent studies, Bailey has been involved in the development of novel vaccine platforms and therapeutic countermeasures for the detection of multiple select agent viruses including Rift Valley Fever Virus and Venezuelan Equine Encephalitis Virus. Many of his efforts using host based signaling studies using B. anthracis, F. tularensis, RVF and VEE, (Venezuelan Equine Encephalitis Virus), have been published in peer reviewed journals and have led to the identification of host changes that are used as targets for novel therapeutic design.
Family ties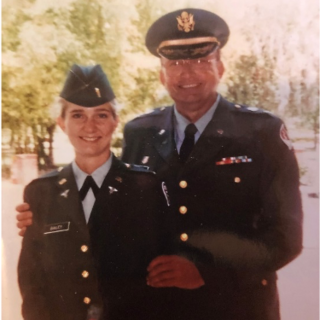 Bailey's daughter, Shelley, followed in his footsteps. Bailey 'hooded' his daughter when she received her Ph.D. in biological sciences from Mason. Shelley served in the military as lead of a clinical laboratory in a hospital in northern Iraq. "Before being sent to Iraq, and after returning from Iraq, she was assigned to the same laboratory where I spent 13 years of my career," Bailey said.
According to Bailey's spouse, Melissa, he became a huge Dallas Cowboy fan. Famous for his sense of humor throughout his career, some may recall Bailey couldn't resist joking with the Governor on the BRL dedication "stage", by wearing his Dallas Cowboy hat, following Allen's participation in Mason's BRL laboratory opening in 2010. (Then Gov. Allen's brother, Bruce Allen, was the Washington Redskins Football team General Manager, and his father George Allen was the former Head Coach).
Skilled, supportive collaborator
"Charlie was one of the main reasons we came to Mason in 2005," said Lance Liotta, Mason School of Systems Biology professor and co-director of Mason's Center for Applied Proteomics and Molecular Medicine (CAPMM). "He was one of the first we talked with at Mason to bring proteomics into infectious disease research. He saw the value and included it in his design of the BSL-3 facility." Liotta explained.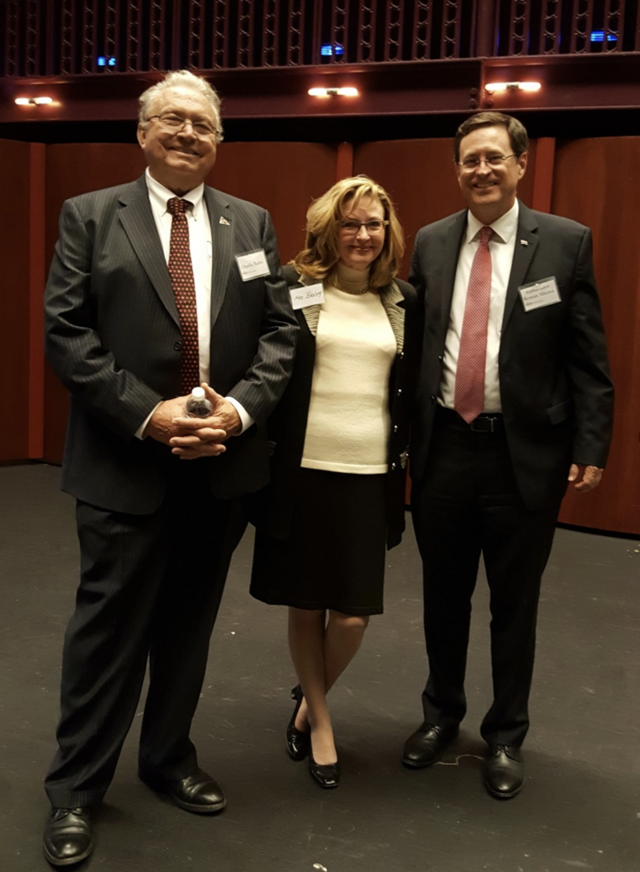 "Charlie had a great way of connecting people and identifying big picture opportunities," said Emanuel Petricoin, Mason School of Systems Biology professor and CAPMM co-director. "He helped bring our infectious disease experts together to collaborate, using the advanced technology to see the effect on the body and evaluated new treatments based on how the pathogens worked." Petricoin added.
"It has always been a pleasure to work with Charlie, the big man with the big smile," said Macaya, former Ambassador of Costa Rica to the United States and current President of the Costa Rican Social Security (CCSS), the institution that provides all public health care. "When our embassy called George Mason University´s Biomedical Research Laboratory in 2015 to explore a possible collaboration in infectious disease research, Charlie opened the door and enthusiastically welcomed the proposal," Macaya explained. These relationships proved invaluable in 2020 to fast track a collaboration between Mason, the University of Costa Rica, and the CCSS to assess the potency of horse antibodies in neutralizing live SARS-CoV-2 virus. "The results from Mason led to the dosing decisions for two clinical trials on these biologicals and the collaboration continues with Mason today."
"Charlie went out of his way to empower his faculty. He truly wanted us to succeed and was committed to providing the necessary support and resources to ensure our success. I am grateful for all the opportunities that he provided me, which jumpstarted my career in emerging infectious diseases," said Kylene Kehn-Hall, former Associate Director Mason's School of Systems Biology and now Virology Professor at Virginia Tech.
"Charlie was especially skilled at facilitating collaborations, making connections with industry, academia, and government scientists, both domestic and international. I have many fond memories of traveling to Kenya and Costa Rica with Charlie, where we established lasting international collaborations," Kehn-Hall added.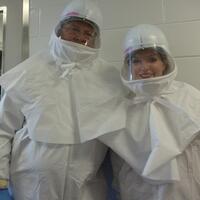 "I owe Charlie a lot," said Aarthi Narayanan, Director of Translational Research in ATCC Federal Solutions. "Throughout my time at Mason as an associate professor of biology and researcher, he was an unwavering source of support and enthusiasm. He always encouraged me, not just when I experienced success, but also was supportive when I may not have gotten an important proposal funded." Narayanan explained.
Many of Bailey's Mason colleagues share the same strong sentiment when characterizing his impact. "Mason's work in infectious disease and animal models gained stronger footing because of Charlie. He's gone above and beyond the call of duty to establish Mason in the infectious disease space. At this time of his retirement, we all owe him a heartfelt 'thank you.'" Narayanan added.
Bailey's trail blazing is far from over. Bailey and his wife Melissa reside and operate Bailey's Walking After Midnight Farm, north of Winchester, VA, near Berkeley Springs, WV which offers trail rides to both novice and experienced riders along with a BnB experience.
Thank you for your service, Charlie and here's to wishing you many more 'happy trails!'